Buy Estacion Mock Two-Pieces Checked Dress in Yellow. Sale price $33.9. In stock and delivery should be about 7-14 days. Free delivery options available to most countries.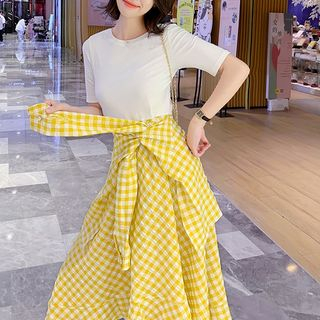 Brand from China: Estacion. Color: Yellow, Materials: N/A, Size: S: Total Length 112 cm, Bust 86 cm, Waist 66 cm, Hips 94 cm, M: Total Length 113 cm, Bust 90 cm, Waist 70 cm, Hips 98 cm, L: Total Length 114 cm, Bust 92 cm, Waist 76 cm, Hips 104 cm, Care: N/A.
Your chance to buy a genuine Estacion women's Dresses & Skirts online from YesStyle US/ Global.